Acommodation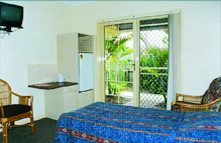 Victoria Point Lodge is a modern, well maintained complex specifically designed to suit pensioners requiring rental accommodation. The complex consists of 12 single units surrounded by tropical gardens. All units are secure and entry can be gained from inside the complex or from outside through each private courtyard.
| | | |
| --- | --- | --- |
| The fully furnished units have their own ensuite fitted with handrails, remote control LCD TV, fridge and tea and coffee making facilities. All units open out to their own private courtyard and garden. Each room has a connection for a private phone allowing for contact with family and friends. Fresh bed and bath linen is supplied weekly. | | |
| | | |
| --- | --- | --- |
| | | The lounge has comfortable seating and is the focal point for TV, games and conversation. A library of books and jigsaws available. Meals are served in the central dining room. Tea and coffee making facilities are available in the dining room for residents and visitors. The dining room leads to a covered outdoor seating area that takes full advantage of the bay breezes. |
Conditions of Occupancy

Health & Safety (Smoking Policy)

In the interests of the health and safety of all Residents and staff, smoking is not permitted anywhere within any building. You may however, smoke in the designated smoking area.

Residents Obligations

Any food, sweets etc. must be kept in air-tight containers.
When watching television or listening to the radio, Residents must keep volumes low or use head-phones or ear-phones after 8.30 p.m. and prior to 7.00 a.m.
Residents and their guests must ensure that they do not interfere with the reasonable peace and privacy of other residents.
Residents must maintain their own rooms in a condition that is safe and does not present a fire or health hazard. Residents are encouraged to make their areas home-like, keeping in mind the importance of keeping your area a safe environment.
Residents and their guests must leave common areas neat, clean and tidy after using them.
Residents are requested to refrain from throwing food scraps around the grounds and gardens to feed birds and other animals, which may be present, as this encourages vermin.

Personal Property

Victoria Point Lodge cannot accept any responsibility for money or valuables kept by the Resident.
Residents are responsible for maintenance and repairs to personal property such as clocks, radios, etc.
Residents may have a telephone connected in their room. Arrangements for connection, installation and ongoing costs are the resident's and/or the family's responsibility.
Unfortunately Victoria Point Lodge staff are unable to answer telephone calls on Residents private telephones.

Pets

Regrettably pets are not allowed.

Transport

Victoria Point Lodge cannot provide transport to specialist appointments etc. There is a bus stop at the front door and STAR transport operates a service for a small fee.

Notice to Vacate

Victoria Point Lodge requires 2 weeks notice of intention to vacate the premises. Your carpet must be professionally cleaned and the room must be left in a clean condition or these costs will be deducted from your bond.
Charter of Residents' Rights and Responsibilities

A. Each Resident has the right

To full and effective use of his or her personal, civil, legal and consumer rights.
To be treated with dignity and respect, and to live without exploitation, abuse or neglect.
To live without discrimination or victimisation.
To personal privacy.
To live in a safe, secure and homelike environment, and to move freely both within and outside the hostel without undue restriction.
To be treated and accepted as an individual, and to have his or her individual preferences taken into account and treated with respect.
To continue his or her cultural and religious practices and to keep the language of his or her choice without discrimination.
To select and maintain social and personal relationships with anyone else without fear, criticism and restriction to freedom of speech.
To maintain his or her personal independence, including a recognition of personal responsibility for his or her own actions and choices.
To maintain control over, and to continue making decisions about, the personal aspects of his or her daily life, financial affairs and possessions.
To be involved in the activities, associations and friendships of his or her choice, both within and outside the residential care service.
To have access to services and activities available generally in the community
To be consulted on, and to choose to have input into, decisions about the living arrangements of the residential care service.
To complain and to expect reasonable action to resolve disputes.
To be free from reprisal, or a well-founded fear of reprisal, in any form for taking action to enforce his or her rights.

B. Each Resident has the responsibility

To respect the rights and needs of other people within the hostel, and to respect the needs of the hostel community as a whole.
To respect the rights of staff and the proprietor to work in an environment free from harassment.
To care for his or her own health and well-being, as far as he or she is capable.