About Us
Victoria Point Lodge provides aged care rental accommodation for seniors . We are non denominational and welcome everyone. There are no buy in or exit fees only a $500 bond that covers unit preparation on your departure and the balance is refunded to you. Rent is based on 78% of the Single Aged Pension plus Government Rent Assistance. There is no income or asset test or ACAT assessment and all residents pay the same amount of rent. Pensioners and Veterans retain their full home care entitlements. You are not tied to a long lease, so if the accommodation is not for you, you have the flexibility to leave with a minimum of notice and without the worry of selling a unit. See our costs page for current rent amount.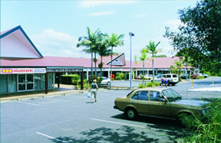 An optional medical alert monitoring service is available to residents at their own expense. Electricity is covered in your rent, the telephone can be connected at the resident's expense.
The local shopping centre conveniently located directly opposite Victoria Point Lodge provides shopping and services with over 25 specialty shops including Foodworks, newsagent, post office, bakery, chemist, doctors, Bendigo Bank, hair dresser, restaurant, coffee shop, fast food and more. The major shopping centre including K-Mart is located just 5 mins away at Victoria Point Central Shopping Centre.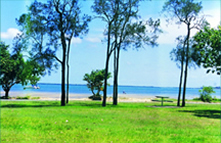 Thompson's Beach at Thompson Street Victoria Point is only a few minutes walk and is perhaps the most popular swimming beach on the mainland of the Redlands, it's great for swimming and is a safe and ideal spot to visit for a few hours of bayside serenity.
There is a shady foreshore park behind the beach, providing bbq's and seating, perfect for picnicking, barbecuing, kite flying, walking, cycling or just relaxing.